Handaflit & Ögonfröjd located at Åsnens strand.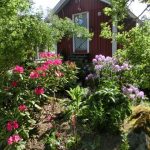 Nature culture and crafts
Do you like craft? Or do you like spending your time in the nature?  Then you are at the right place. Here you could find different handmade crafts that we manufacture ourselves, but also from various local craftsmen. We also sell various yarns from Garngrossisten with pattern.
This is our favorite spot
2012 we build a new house and moved to Ljusadal in Kalvsvik. In the fields we often see deer, moose and cranes. There are birds of all kinds. Sea ears, lilies and loons fly over the garden. On the lake Åsnen swans and other sea birds are swimming. In this idyll we live Lilian and Lennart, together with the dogs Bella and Spana and the cats Missan and Månse. Kalvsvik belongs to Växjö municipality, located 2.5 kilometers south of Växjö. We live in a cabin with the forest and Åsnen as our closest neighbor. If you are nearby you are welcome to look in. If you come in summer you can wander around in our garden and sit down at the beach. Opening hours by appointment, call before.
"Öppen Trädgård" Ljusadal Kalvsvik
Walk around the garden. Here is an old-fashioned garden with both cultivated and wild plants. Fruit garden, raspberry, black and red currants, strawberries, blueberries. Potatoes and different vegetables. All grown without fertilizer. We are the almost self-sufficiency on fruit and vegetables. Some part of the harvest we sell in the store. Enjoy the peace and listen to the birdsong. Have a cup of coffee together with a waffle or cake.
Welcome to our store in Kalvsvik or our webshop online
In our store we sell bamboo lingerie and socks. Bamboo is a new and environmentally friendly material grown entirely organically, without pesticides. The bamboo that our garments are made of comes from Moso bambun, also known as "giant bamboo". It is the fastest growing plant in the world. It can grow up to 1.2 meters per day under favorable conditions. The harvest of Moso bambun does not affect the panda. Bamboo is very good against sensitive skin and also antibacterial properties, so that the socks and lingerie last longer. The material feels cool when it's hot and hot when it's cold.
Cottage to rent.
19th century torpedo rented per week or day. It has been carefully renovated, so you can experience how it was to live here in the past. There are 2 bedrooms with 2 beds in each, family room and a small kitchen with fridge freezer, stove top with oven. Water (cold only) and drainage. Dry toilets. Beuatiful landscape around the house. Boat and motor can be rented. Very welcome!